Accu-Tab® PowerBase Systems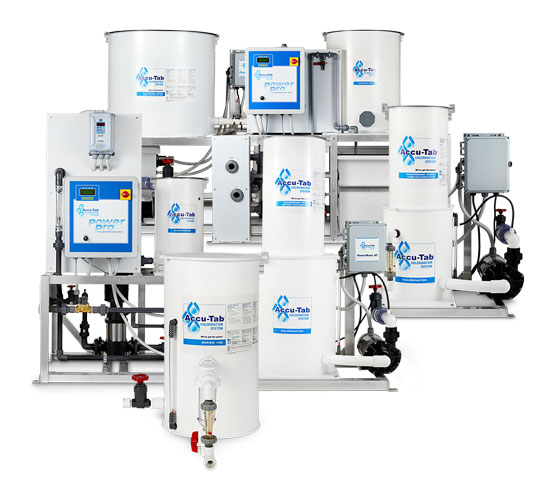 Accu-Tab® PowerBase systems are true plug-and-play systems that require only a 110v power supply, inlet and outlet piping, and a 110v signal supply to function properly. Each Accu-Tab® system is pre-packaged with an Accu-Tab® chlorinator, a solution delivery pump, a solution tank with a float valve, a check valve, and inlet and discharge control valves. Select models may include a solenoid valve or an overflow protection kit. The Accu-Tab® PowerBase systems vary in physical size and chlorine delivery rate.
Since Accu-Tab® PowerBase systems are manufactured with a minimal amount of moving parts, it is easy to diagnose and fix any issues that arise with your system. Below are each of the Accu-Tab® PowerBase systems, click on a unit to find a full list of replacement parts. Don't see something on the list? Send us a message by clicking here or navigating to contact us on our navigation bar.
---
---
Commercial Pools and Spas

Commercial pools and spas are required to comply with state and local codes by maintaining safe chlorine levels. Commercial pools often face issues everyday with safety and operations. Spas provide a higher bacteria risk with warmer water temperatures, concentration of perspiration, and confined spaces.

The Accu-Tab® Chlorination Systems help keep commercial indoor and outdoor pools and spas operational by delivering the chlorine consistently and accurately. The easy to use chlorinator system from Accu-Tab® will assist to control algae, kill harmful bacteria and destroy organic contaminants.
---
Waterparks and Attractions

Waterpark operators require a chlorination system that will provide a solution to water sanitation and resistant properties to recreational water illness (RWIs). Accu-Tab® Chlorinators offer the long-term solution for waterparks and attractions including: lagoons, lazy rivers, fountains, sprayers, water slides, wave pools, kiddie pools, swimming and wading pools.

Maintaining an effective chlorine level is vital in the waterpark industry, the visitors safety and the parks operation rely on effective chlorine management. Accu-Tab® Chlorination Systems provide an easy and cost effective choice compared to other systems.
---
Fountains and Specialty

Fountains and spray parks are often a focal point in malls, resorts, condominiums, public memorials, or monuments. Not only do people tend to congregate around these decorative areas, pets and wildlife are also drawn to these places.

Among many hidden dangers, the mist created by the fountain and spray park is inhaled by the close visitors. If the water is not properly treated, the guests could be inhaling the harmful bacteria. Shallow depths can provide the challenge of keeping the water balanced, but the Accu-Tab® system helps ensure delivering the chlorine to provide a safe area for all fountain and spray park visitors.
Photo courtesy of City of Rock Hill